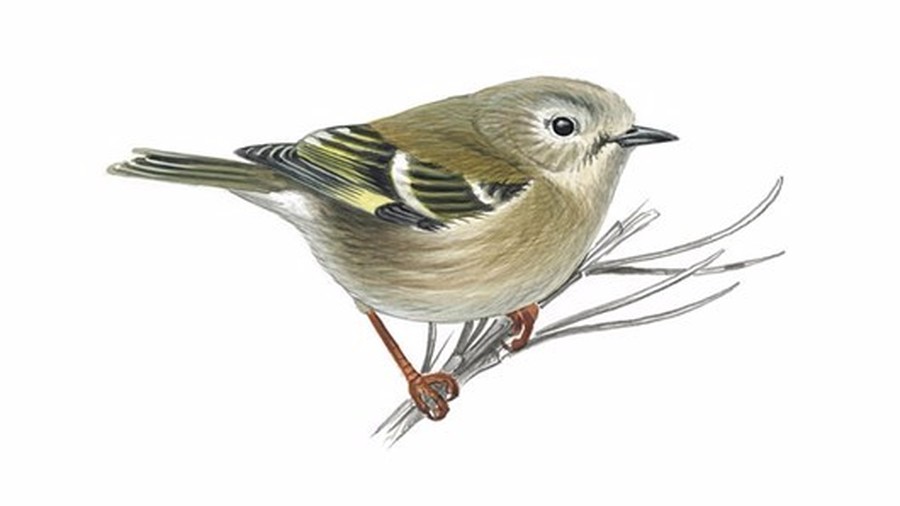 Wrens are a class of 24 year 4 children taught by Miss Hayes.
We are supported by Mr Sinclair and Miss Wale.
Each week we will have two bloggers who will tell you all about the work we have been doing. Look out for your child's name!
04.03.19 - 08.03.19 Book Week
This week we have been learning about 'The Sleeping Beauty' ballet by Pyotr Tchaikovsky. We have had lots of fun doing lots of different activities based on the NYC ballet production of 'The Sleeping Beauty' book. We have written a fact file about Tchaikovsky and presented these in mini books and leaflets. We have also written from the evil fairy's perspective. We created our own music using our voices and our bodies, you can watch our performances below! In the afternoons, we have created costumes for ballet dancers, drawn ourselves as a dance and painted scenes from the book. We presented all of our work in two floor books to give to the year 6 class. We have really enjoyed ourselves.
Bloggers of the week: Lacey and Archie
25.02.19 - 01.03.19
On our hook day, Wren's heard three myths from three different teachers (Miss Hayes, Ms Perry and Mrs Avery). Wren's tried some Greek food such as feta cheese, olives, figs, grapes, pitta bread to dip in yogurt, olive oil and honey. Half of the Wrens painted plates terracotta colour and the other half coloured Greek Gods, Goddesses and mythical creatures. Then we swapped. Once the plates had dried, we got some black paint and painted patterns on them.
Bloggers of the week: Cody and Jack
04.02.19 - 08.02.19
On Monday, we did science. We made a soundproof box in partners/groups. Then, we put a buzzer inside them to text if they were soundproof. We tested five materials and used the best three. I used cotton wool, cotton pads and cardboard. None of the boxes were completely soundproof but the best ones were really quiet because they had cotton wool around the buzzer.
Bloggers of the week: Logan
14.01.19
On Monday, in the morning, Major Tom visited Eldene School. Major Tom works with astronauts. She came to Eldene because she wanted a British Astronaut to go to space. To help Major Tom decide the new British Astronaut we had to do some maths. We solved lots of problems and discovered that Professor Stacey Haines would be the new British Astronaut. Luckily, the rest of the school agreed with us! We had loads of fun.
Bloggers of the week: Alfie and Lirona
10.01.19
The first things we did on hook day was read a book called Cave Baby. After break, we laid under the tables and painted paper above us. We had a friend to paint with us and we used our fingers. After lunch, we made clay pots. We put them in the bay to dry.
Bloggers of the week: Cody and Erika
12.11.18 - 16.11.18
For anti-bullying week Wren Class has been thinking about how words can hurt on the inside while you look fine on the outside. We had two apples, one was shiny and the other was wonky and dirty on the outside. We passed the nice apple around and said something nice to it. Then we passed around the wonky apple and we had to says something mean to it. We cut open the apples and the wonky apple was brown on the inside. Our mean words hurt it.
Remember, your words are powerful. Use them for good!
Bloggers of the week:
15.10.18 - 19.10.18
On Tuesday we shared our topic homework. They were all different but they were fantastic. There were 6 types of homework; being kind, make a comic, a superhero's car, make a cape for a superhero and more! Here are some examples:
Bloggers of the week: Alfie and Lacey
17.09.18 - 21.09.18
This week we have been writing our own traditional tales. We have been writing 'The Three Grouchy Bears' which we based on 'The Three Billy Goats Gruff'. We've been writing the beginning, build-up, problem, resolution and ending. In The Three Grouchy Bears, the bad character in the stag. In the story, the bears want to defeat the stag and overcome him so they can go and eat the scrumptious honey. We have enjoyed writing traditional tales.
Bloggers of the week: Lirona and Riley
05.09.18 - 14.09.18
Straight after break we found a letter on Miss Hayes' desk. It was from Cruella De Vil! The next day we made outfits for Cruella. Cruella De Vil was going to come on Friday so we made paper puppies to trick her. On Friday, we all sat in the hall and decided what to do. We hid behind the benches while Mr Davis and Mr Sinclair stood guard. We waited a minute before Mr Jamieson opened the gate and saw a weird parent. Mr Davis couldn't see her so we all shouted, ''Behind you!'' Then they ran to the front of the bike shed and caught her. They took her to Mrs Kellet's office and rang the authorities. Some of the puppies got injured so we will fix them.
Bloggers of the week: Logan and Erika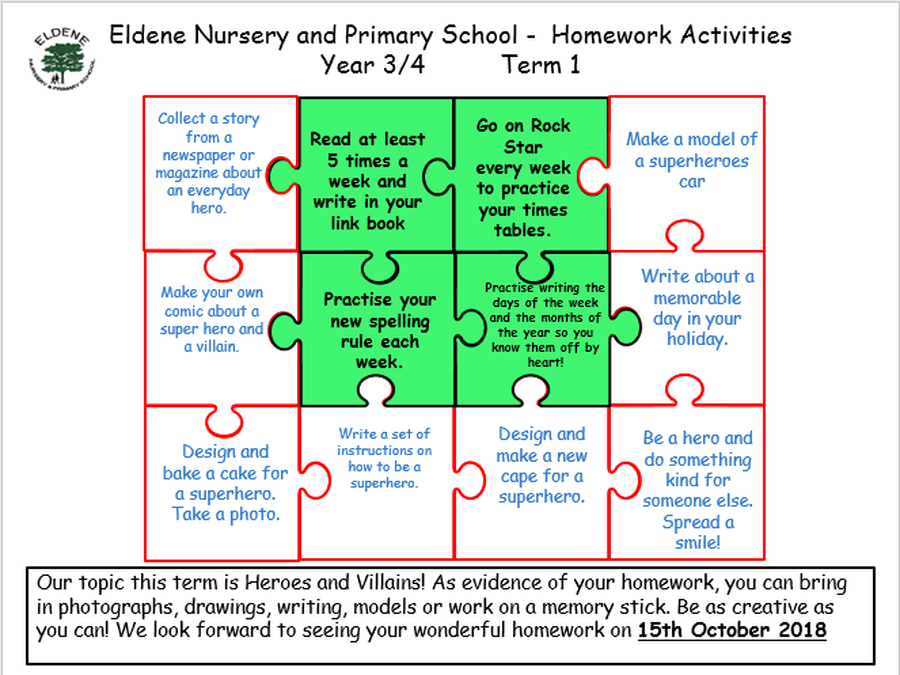 This term our topic is...
Heroes and Villains!
Wren Homework
Spelling homework will be given out every Friday and collected the following Thursday.
Topic based jigsaw homework will be given out on the last week on term to be handed in towards the end of the next term.
Click here to download the Y3/4 homework for term 1.
Click here to download the Y3/4 homework for term 2.
Click here to download the Y3/4 homework for term 3.
Click here to download the Y3/4 homework for term 4.
Click here to download the Y3/4 homework for term 5.
Reading at Home
Every child in Wren class should be reading 5 times each week. The reads are collected every morning so make sure you bring in your link book!
Times tables
Make sure you are working hard to improve your times tables each week by practising at home. You could play hit the button, find a new game or make your own match cards and race against yourself!
Parents Morning
On the 1st Thursday of every month (until 10.15) we invite you to come into class and see your child in action!
PE Kit
This term Wrens are doing PE on Monday AND Friday.
Despite this, please make sure children have a PE kit in school everyday as it may be needed for other lessons, such as hook days and topic.