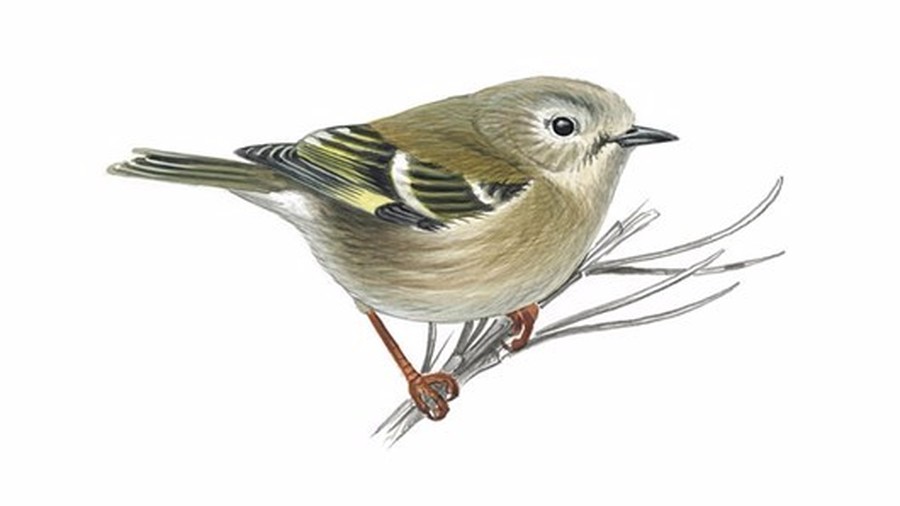 Wednesday 5th July - Year 4 Magpies and Wrens
It is health and sex education week and we have been busy learning lots of new information. We discussed the impact that having a baby has on people's lives and to experience what this is like we were given an egg baby to take care of for the morning. We had to take it for a walk, design and make a safe and secure bed for it (whilst also taking care of our egg baby!) and finally we took it outside at play time. Only a couple of the egg babies cracked (oops!) but overall we had an eggcellent time!
Take a look at the pictures of our challenges below!
On Wednesday 14th June, we had another hook afternoon. Magpies and Wrens went outside to make some lifeboats for the Titanic. Our lifeboats were made out of wood, leaves, masking tape, twigs and elastic bands. Have a look at the pictures below.
Bloggers of Hook Week (Day 2): Parisha and Dani
On Tuesday 13th June, we had our second hook afternoon for our topic Titanic. In the afternoon, we did art and made waves. To make our waves we made collages out of paper, card and crepe paper. All of these extravagant collages will be put on display to make the sea for the Titanic.
Bloggers of Hook Week (Day 1): Nevaeh and Reece
On 9th June we learned about how the Titanic was made. It was one of three sisters. It was the first to sail and the first to sink.
Bloggers of the week: Logan and Jay
In term 6 Wrens will be learning all about the Titanic. Come back soon to see what we have learned! In the meantime, why not have a go at some of our homework activities? I look forward to seeing everything Wren class creates.
During term 5, Wrens and Swans have been working incredibly hard to rehearse for our class production, Reach for the Stars. Here are some pictures from the final performance. Well done Wrens!
On Wednesday 24th May, we performed our play 'Reach for the Stars', which was written by Mrs Cantwell! We only had 3 and a half weeks to rehearse. We impressed relatives with our fantastic documentary. It was a great day.
Bloggers of the week: Emily and Mitchell
This term Wrens have been learning all about allotments. This has included where are food is grown, growing our own cress and learning about when different fruits and vegetables are harvested. In DT we taste tested different salad vegetables which can be found in an allotment, learned how to cut with knives safely and created our own allotment salads. Here is a picture of us enjoying our salads at our allotment picnic: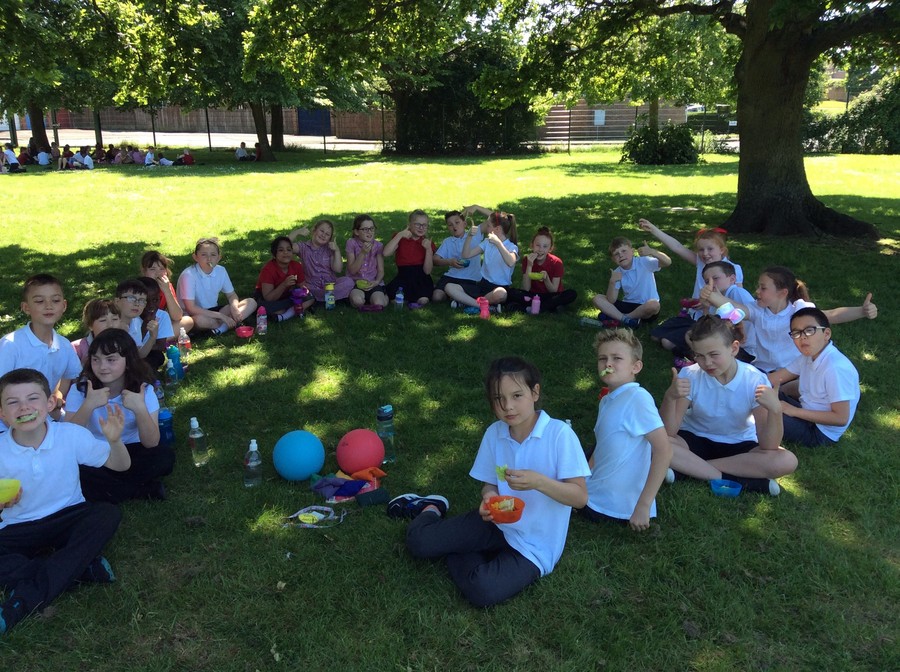 Wrens had an allotment party. Everyone had a chance to taste different salads from an allotment. We sat on the field playing games and having fun.
Bloggers of the week: Leelun and Sophia
This week Wren class have been joined by a very special guest, Reading Rabbit! After an amazing 94% of children read at home five times, Reading Rabbit was allowed to spend the week in our class. Keep it up Wrens! On Monday we all wrote a story based on a picture and Reading Rabbit was very interested in what we were doing. When we arrived on Tuesday, we found Reading Rabbit had taken all of our books and read everyone's story. Here is how we found him: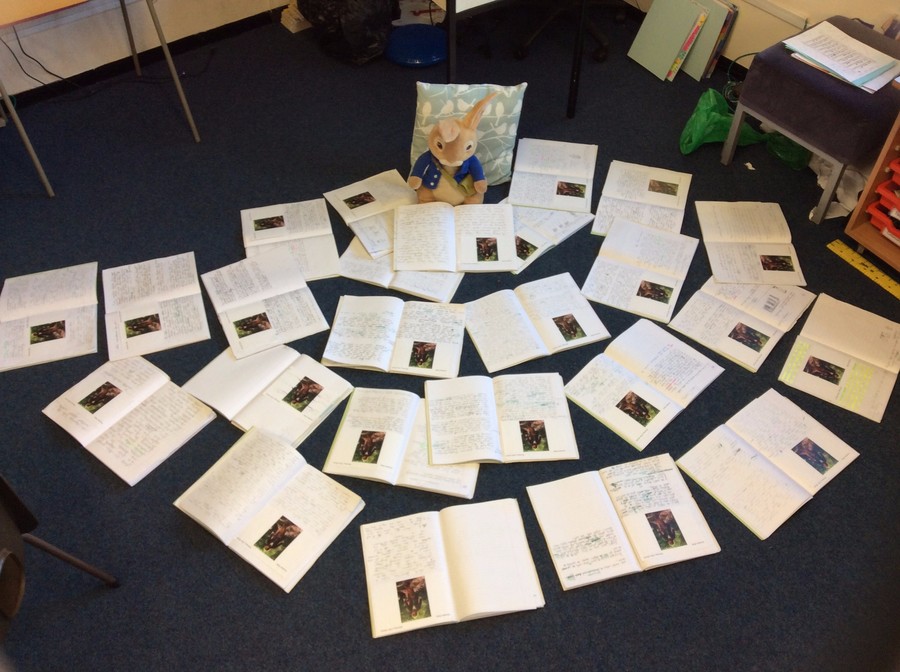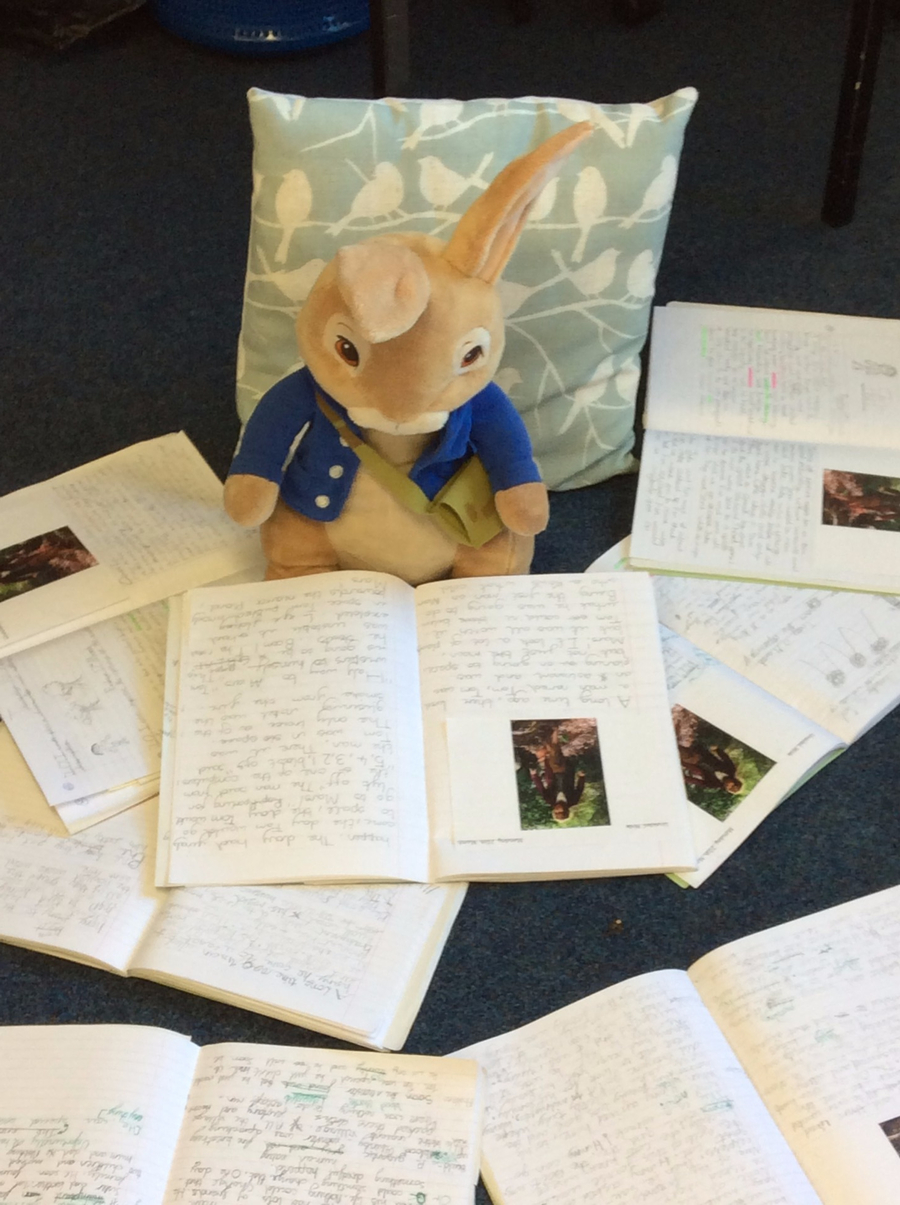 Last week, after a sudden change of Magpie's plans, Wrens and Magpie got together to learn and perform a dance. Wrens had already been practising the dance for two weeks before Magpies joined them so they were able to teach Magpies the moves! The Wrens did a fantastic job at teaching and helping, while the Magpies were able to learn everything in just an hour! Here is the video of us dancing that we showed the rest of the school in celebration assembly.
Earlier this term KS2 were lucky enough to have a visit from St John's Ambulance service. We spoke to a paramedic and asked lots of interesting questions with even more interesting answers! We also learnt how to put somebody in the recovery position, here are some pictures of us practising.
Term 4 Topic - Stargazers
On Wednesday 22nd February, we visited @Bristol. We all had a very enjoyable day and we particularly enjoyed our Planetarium visit. During the 3D show, we flew into space and visited our solar system. We learnt some new facts about the planets. Take a look at some photographs of our trip.
Last week we began our new English topic, myths. We have learnt an ancient Egyptian myth and each group performed it in front of the class. Here are some of the actions we learnt:
An exciting start to the term! On Friday 6th January, Anubis, the Egyptian jackal headed god, appeared in the Junior hall and instructed us in how to mummify a fish. Several pupils were invited to assist Anubis. They prepared the body by washing it in water and wine, packed it with sawdust, encased it in salt and pitch, and wrapped it with linen and jewels before placing it in the sarcophagus. Later that day, we were all tasked with creating grave goods and tomb treasures to be presented to the mummy before its final entombment. Have a look at some photographs of our experience!
Last week we won Punctuality Panda again! Keep it up Wrens.
Unfortunately, we missed out on keeping Reading Rabbit by quite a long way. Make sure you're reading five times a week Wrens!
Peasants, Princes and Pestilence
This term our topic is all about the black death. For our hook day we made jumble biscuits and topic books which we look forward to writing in this term. The jumbles tasted delicious, even if Skye's was a little burnt! Take a look...
We are learning about the water cycle this term. To help us remember all of the stages we created a dance and acted it out using the steps in the playground, here are some pictures of our dance:
This term our topic is Misty Mountains Sierra
For our hook day we took part in several challenges you would face when climbing a mountain! We crossed a treacherous cliff, crossed an icy lake and built a shelter out of materials we had carried with us. Here are some pictures of our day:
Wren Homework
Homework will be given out every Friday and collected the following Thursday.
Y4 children will be given maths homework every week, as well as their termly topic homework, reading, times tables and easimaths practice.
Click here to download the homework for term 6.
Reading at Home
Every child in Wren class should be reading 5 times each week. The reads are collected every morning so make sure you bring in your link book!
We have won Reading Rabbit twice this year. Keep reading Wrens!
Times tables
This term we are learning our 7, 9, 11 and 12 times tables. We didn't manage to win Times Table Tiger last term but we improved our time every week.
Make sure you are working hard to improve your time each week by practising at home. You could play hit the button, find a new game or make your own match cards and race against yourself!
Parents Morning
On the 2nd Thursday of every month we invite you to come into class and see your child in action!
PE Kit
This term Wrens are doing PE on Wednesday and Friday.
Despite this, please make sure children have a PE kit in school everyday as it may be needed for other lessons, such as hook days and topic.