Hello from all the Robins!
Our teachers are
Mrs. Charles and Mrs. Allfree
Term 6
Our topic for this term is 'Living Things'.
We had a fantastic trip to Farmer Gows. Everyone had fun feeding the sheep and goats, handling chicks, collecting eggs, playing on the hay bales and going for a tractor trailer ride. Even though it was the hottest day of the year we managed to have a really cool time.
When we got back to school we found out our cocoons had hatched and we had 5 lovely butterflies to release into the wild.
Term 5
In Term 5 our topic was transport. We went to Coate Water to ride on the train, and we visited the garage.
At Coate Water we had a Scavenger hunt and then ate our lunch on the grass. It only rained a little!
We had a fantastic ride on the Miniature Railway. Thank you very much to all the volunteers there who helped us enjoy ourselves so much.
At the garage the two Kevins showed us their equipment for fixing cars.
Term 4 Highlights
Building bridges... and dens!
OUR RED NOSE DAY COSTUMES
Do you know what happens when you add water to a plateful of Skittles? Have a look at the photos below. The children used their science skills of observing and predicting.
We had a visit from Sue and her guide dog Millie. Sue is blind, and clever Millie helps her to get around. Afterwards we made special pictures with different materials and textures for Sue, so she could 'feel' what they looked like. She sent us back a lovely picture of her and Millie posing just like her picture!
Here are some of our highlights from Term 1.
We went on a welly walk around the school grounds looking for signs of Autumn.
Term 2
Term 2 was very busy. We spent a lot of time practising our Nativity play. And then there was the Christmas party ...
Ethan's Dad told us about his job as a binman. He showed us his hi-vis jacket and explained how it helps to keep him safe while he is working.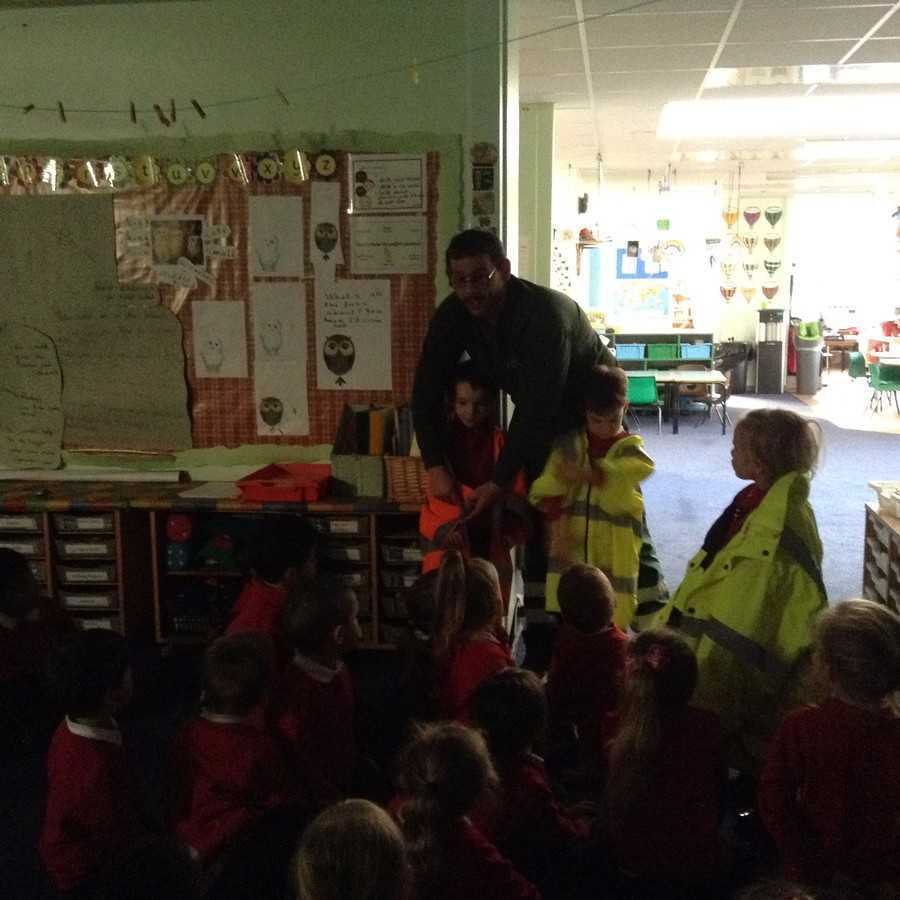 Term 3
We are learning about our bodies.
Maya and her Mum told us all about caring for babies.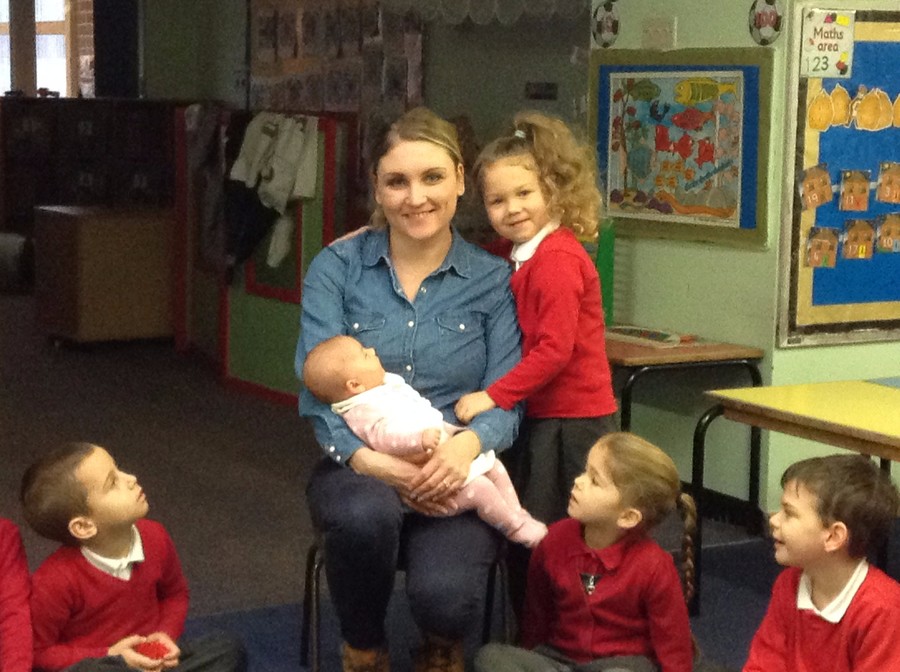 Links to useful websites:
In Science week the Robins investigated magnets. Click below for a video of our discoveries.
Do you like porridge? Goldilocks was very fussy about her porridge. We all took part in some porridge tasting, then talked and wrote about our favourite flavours. Most of us weren't fussy at all.....
We watched a show that was all about teaching us how to cross roads safely. There were some rather cheeky animals...
Our Christmas party was fun, and there was great food.
We learnt about light. We found out about how Hindus celebrate Diwali.
We made a delicious fruit salad.
We went on a sound walk around school. There was lots of birdsong, bubbling water, even a helicopter flying overhead!