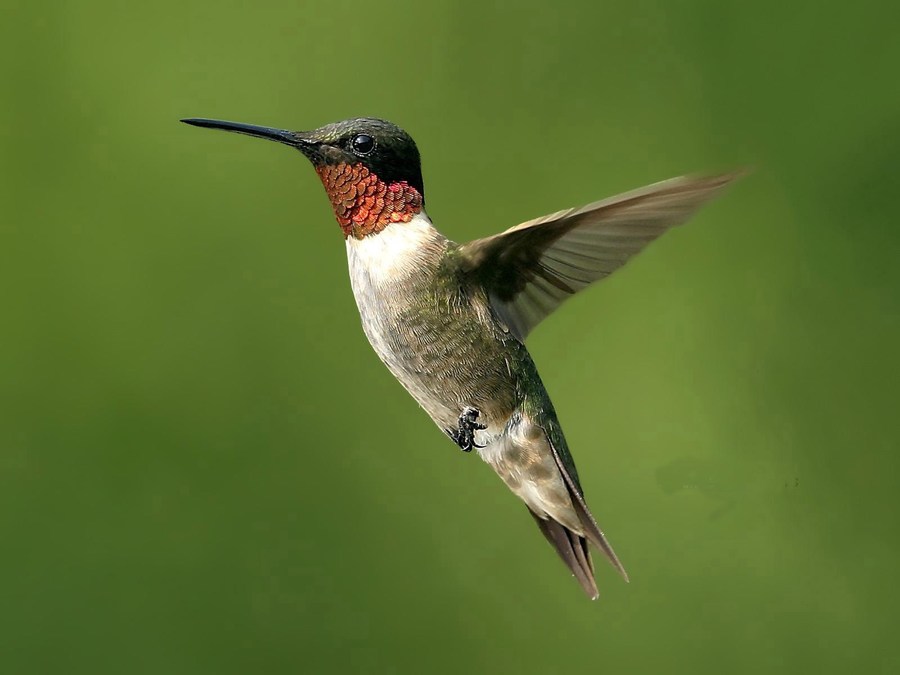 Hummingbird Class
Well done Hummingbirds for getting Times Table Tiger, Attendance Bear and Reading Rabbit! Let's try and get all four after half term!
Topic for Term 6: Heroes and Villains. Remember these are not superheroes and super-villains!
Year 3 are learning a Fear Story in English this term- the story is above. It is all about realising that sometimes our fears are not really anything to be afraid of. The main character is afraid of the Nightmare Man but when she faces her fears she realises that the Nightmare Man is not all he appears.
You can read the story together- the children have begun to learn some actions too!
The children will be looking at Heroes and Villains, here are some websites they can look at.
Click here to learn about Florence Nightingale. She is a very famous heroine.
Click here to learn about Henry VIII. In historical times, he was known as a villain.
This coming term, Year 3 will be learning about Heroes and Villains throughout history. The children have already brought home their homework for the term. Remember the blue pieces of the puzzle are things the children should be doing every week. Your child can then choose 6 of the white pieces to do over the term- at the end of the term we will have a sharing morning where your child can bring in their homework and demonstrate what they have learnt!
Science Trip to At Bristol
Term 5 saw the Year 3 children heading to At Bristol. This was a fun and interactive science museum where they could explore science in a hands on way. The children were amazed that they could freeze their shadows, astounded at the testes of their senses and fascinated about learning more about forces and magnets.
Science Week
Year 3 have had a lot of fun this term learning about a famous Forensic Scientist. Her name is Stephanie Callian and the children have been in contact with her this term to find out more about her work.
The children had an amazing time solving a mysterious crime that had taken place in the school Staff Room.
The Case: A laptop had been stolen from the staff room on Tuesday evening between 4.55pm and 5.10pm. The police had heard that Year 3 had been learning about forensic science so decided to leave it in their capable hands. The police had narrowed it down to these six shady suspects.
The children were told that the suspect who stole a laptop from the staff room would have some carpet cleaner on the soles of their shoes that the cleaner had laid down on the floor of the staff room. The children discovered that the main ingredient of the cleaner was bicarbonate of soda and that when it mixed with vinegar, it would bubble and fizz.
Year 3 tested boot scrapings from all of the suspects and discovered that only five samples fizzed and bubbled. Mr LeCoyte's shoe scrapings did not. He was innocent.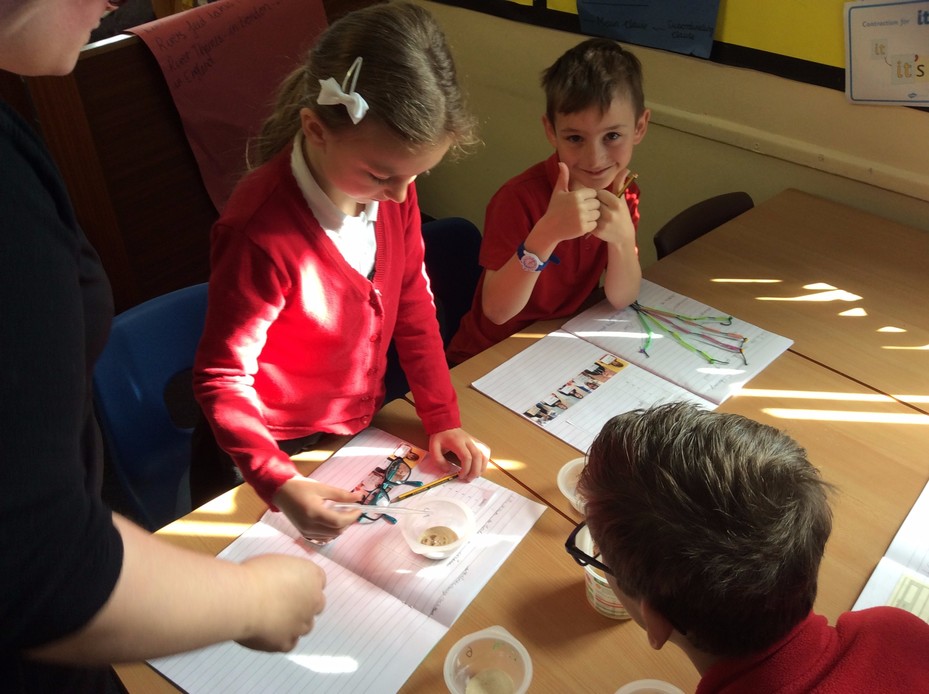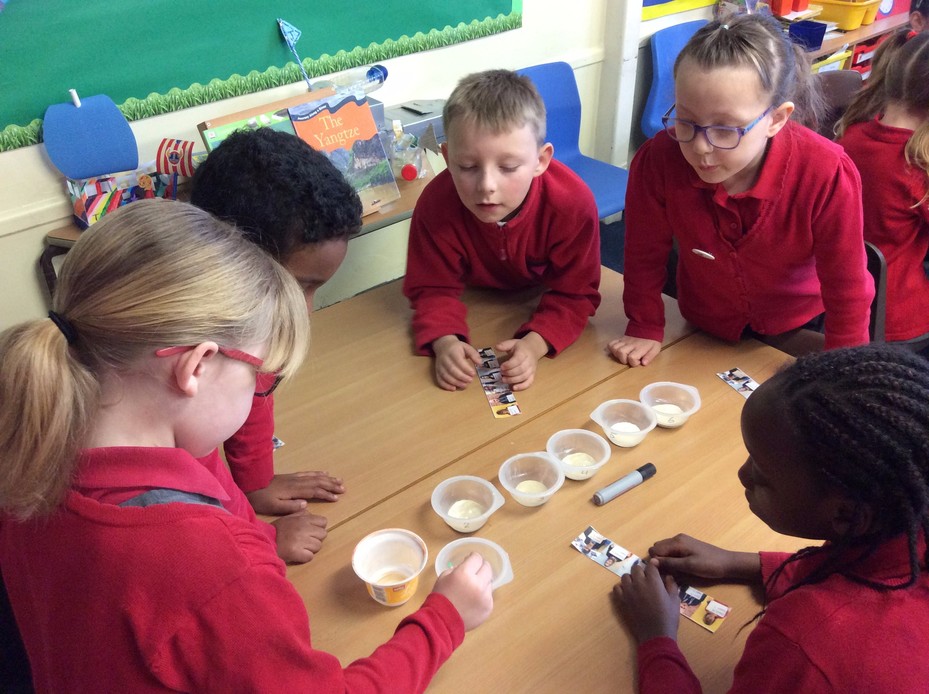 Next Year 3 had to test the inks from three different coloured pens using water and filter paper. They knew that the suspect had left a note behind but they did not know what colour pen they had used. They dipped the paper into the water and observed how the water caused the ink to split and spread into different colours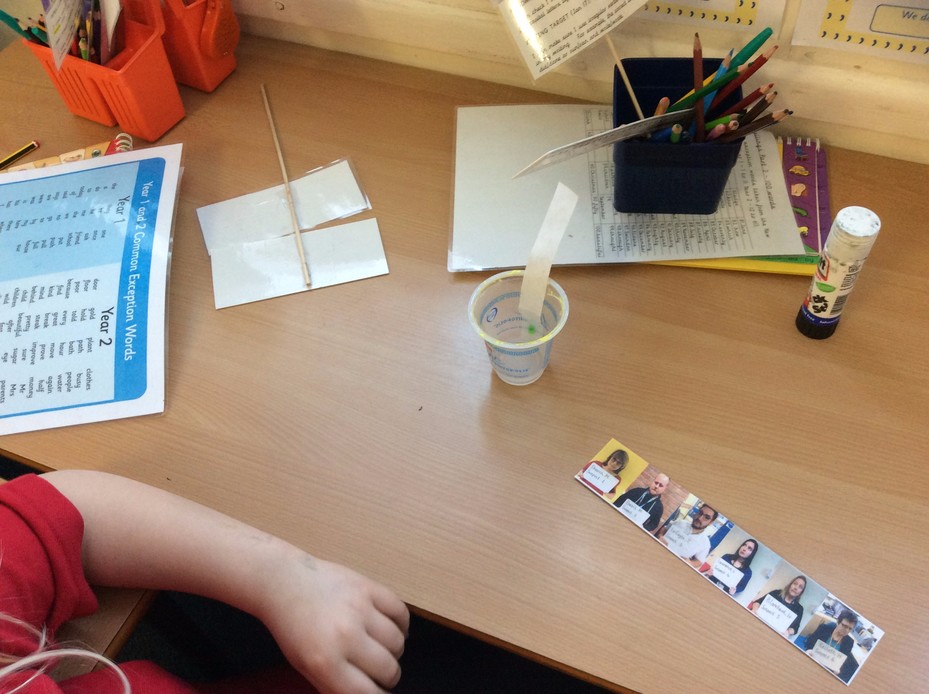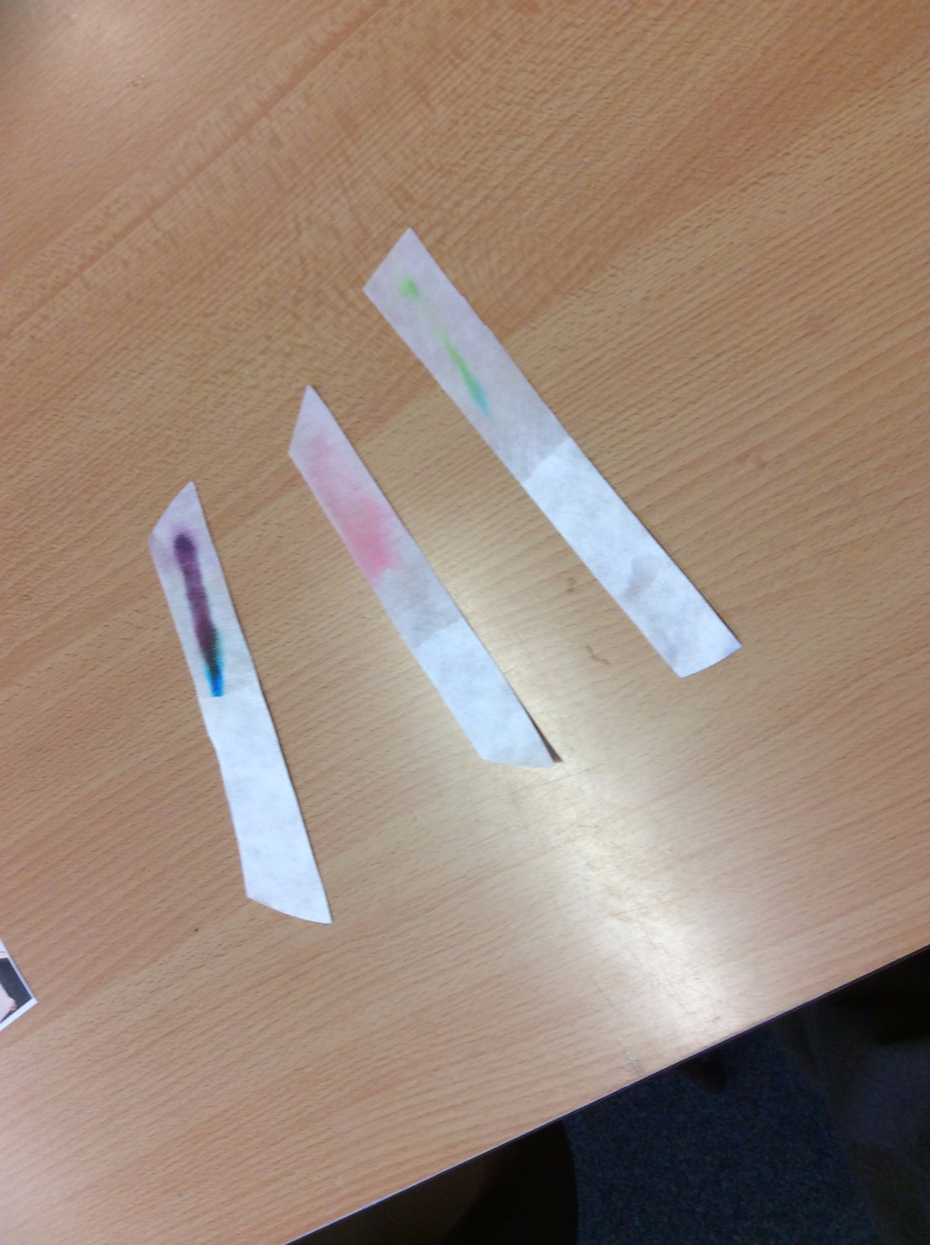 The children found out that the note was written with a black pen. Mrs Sheerin wrote with a red pen and Mr Davis wrote with a green pen. They were both innocent. That only left Miss Lawrence, Mrs Blanchard and Mrs Kellett. Who could it be?
The children were then given the opportunity to go through fingerprint training. They found out that a no other person on earth has the same exact fingerprints as them and had fun printing their own fingerprints and examining them.
Year 3 found out that forensic scientist can 'dust' for fingerprints at a crime scene so they had a go too!
Finally they were given fingerprint samples of the remaining suspects and had to match them up to the fingerprint found at the crime scene.
The children were shocked to discover that Miss Lawrence had done it!
Year 3 discovered that while they were able to find out the 'how', 'when' and 'who' the science did not tell them the 'why'. Why had Miss Lawrence done it?
They were given the chance to find out when Miss Lawrence visited their classroom- she had seen the laptop left out on the side and had moved it and locked it away because she thought she was being helpful. When she realised that Year 3 were investigating, she had been to nervous and worried to own up to it.
Year 3 were satisfied with her answer and gave her some advice of what she could do next time.
CASE CLOSED.
Here we are launching our boats in the local stream!